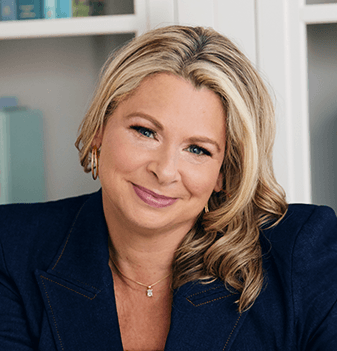 Founder and Co-CEO
Author, Executive Producer and Director
---
Modern Storytelling Meets Timeless Tradition.
Chanda Bell was once a beloved middle school English teacher. Now, she is the visionary founder and co-CEO of The Lumistella Company, home to the author-published phenomenon, The Elf on the Shelf: A Christmas Tradition, and its whimsical world of additional stories.
In 2005, with deeply rooted family values, she united with her mother and twin sister to bring their cherished family tradition to the world. Refusing to accept rejection from established publishers, they risked it all and formed their own publishing company.
Their tenacity paid off, and today their assortment of books and products are consistent bestsellers recognized by The Wall Street Journal, USA Today, and Publishers Weekly. Meanwhile the company remains family operated; and, its hero brand, The Elf on the Shelf, has secured status as a "Top 5 Holiday Character" alongside legendary favorites Rudolph and Santa Claus*! Additionally, The Elf on the Shelf, Elf Pets, and Elf Mates brands can be found in more than 25 million homes worldwide.
Today, Chanda is lovingly referred to as "Santa's Chief Storyteller," doing something no other writer has ever done—reshaping the way we celebrate Christmas! Through her imaginative narratives, she has transformed the way kids and families interact with the holiday.
Often compared to Walt Disney, Chanda is both a pioneering creative and savvy entrepreneur.
She is the driving force behind all the creative content, as well as the company's products, entertainment, and experience-driven initiatives.
Over the years, she brought Santa's world to life through a Netflix partnership, launched a traveling holiday musical, and designed a balloon in the Macy's Thanksgiving Day Parade®. As a 2023 Ernst and Young Entrepreneur Of The Year®, Chanda balances her work with her commitment to her family, faith, and philanthropic goals. A popular speaker, she has been featured on The Today Show, CNN, The Kelly Clarkson Show, and the BBC.
Embracing her author's soul, Chanda finds immense joy in witnessing how her stories have profoundly impacted families. Right now, she's diligently working (deep inside Santa's workshop!) on the next exciting revelation from The Lumistella Company—the entire enchanted world of Santa Claus!
*Source: Independent study commissioned by CCA and B, LLC aba The Lumistella Company and conducted by Beano Brain. Nov 2022 – Feb 2023. US based. Demographic: Women 25 – 49 with Kids 3 – 9.