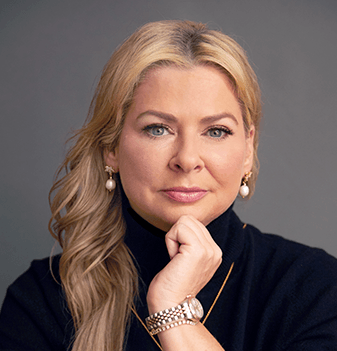 Founder and Co-CEO
---
CEO. BRAND BUILDER. SPEAKER.
Imagine being applauded for "revolutionizing the essence of Christmas." That is precisely what American businesswoman and entrepreneur Christa Pitts is celebrated for.
Christa serves as the co-CEO and founder of The Lumistella Company, a dynamic enterprise behind the enchanting brand, The Elf on The Shelf. Under her strategic leadership, more than 25 million The Elf on the Shelf brand Scout Elves, Elf Pets, and Elf Mates have been adopted in 24 countries across five continents, solidifying a massive global reach.
Considered a scion in branding, Christa's journey began as a QVC Program Host, amassing 2,000 hours of live, unscripted television experience. During this time, she honed her expertise in understanding the mechanics of sales, the intricacies of advertising, and the significance of brand authenticity.
This wealth of knowledge proved invaluable when she joined forces with her mother and twin sister to share their cherished family Christmas tradition with the world. Highly regarded for her business acumen, Christa is a sought-after keynote speaker and tv media personality. She is frequently requested to share her perspective on diverse subjects, from being a woman in business to supply chain-related issues on mediums including MSNBC and CBS.
Over the years, she was featured hundreds of times on prominent platforms and stages, including The Today Show, Forbes, and The Wall Street Journal. Recognizing the power of her work, Entrepreneur Magazine has named The Lumistella Company "A Christmastime IP Giant."
A symbol of empowerment for women in business, Christa's voice resonates with many. Most recently, she was named the 2023 Southeast Ernst and Young Entrepreneur Of The Year®. Christa embodies the spirit of breaking barriers and redefining what it means to lead with passion, resilience, and unwavering dedication.